Harness the Power of Unity Industry with PeakActivity
Transforming Businesses Through Immersive Technologies
In the ever-evolving landscape of technology, businesses need to stay ahead of the curve to remain competitive. Unity Industry, a comprehensive package of tools and services from Unity, is designed to help companies across various industries leverage the power of real-time 3D and immersive technologies.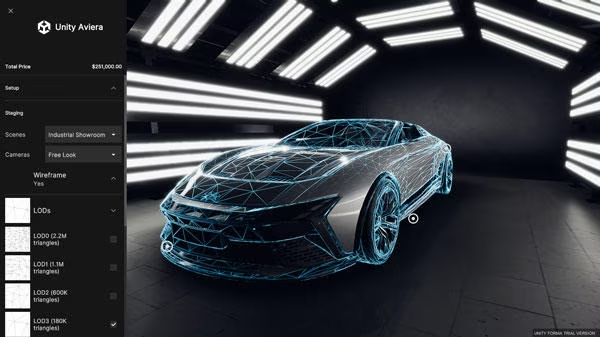 Unity Industry – Revolutionizing Industries with Real-Time 3D
Unity Industry is a powerful platform that enables businesses to create engaging, real-time 3D experiences across multiple industries. Some of the key benefits of Unity Industry include:
Design and Visualization: Create realistic simulations and visualizations to streamline workflows and improve decision-making.

Training and Simulation: Build immersive training solutions to enhance employee skills and reduce training costs.
Sales and Marketing: Engage customers with interactive 3D product configurators and virtual showrooms.

Manufacturing: Optimize production processes with digital twin technology and virtual commissioning.

Retail: Bring the next generation of shopping experiences that are fully interactive to your customers.
Through this new service PeakActivity is able to support the journey of organizations as they explore the world of Real Time 3D. Ranging from Training through Manufacturing and even into the Retail space, this is a massive game changer for organizations.

Layering Perfectly Paired Services on Top of Unity Industry
At PeakActivity, we offer a suite of complimentary services to help you harness the power of Unity Industry, from exploring the technology to scaling Proof of Concepts (POCs). Our services include:
Exploratory Workshops: Our team of experts will guide you through the capabilities of Unity Industry, demonstrating its potential to revolutionize your business processes.

MVP Ideation: We help you develop Minimum Viable Product (MVP) ideas, focusing on solutions that leverage Unity Industry's real-time 3D capabilities to drive business value.

Scalable Proof of Concepts: We create scalable POCs powered by Unity Industry, enabling you to test and validate ideas before investing in full-scale deployment.
No matter where you and the organization stands when it comes to interactive experiences PeakActivity can support the journey. We have supported everything from the ideation phase through scaleable deployment. We have been there and explored the problems you are running into right now.
PeakActivity and Unity – A Partnership Driving Innovation
As an early access partner of Unity, PeakActivity has built a wide range of solutions for customers across various industries. Our expertise, combined with the powerful Unity Industry platform, allows us to create innovative, tailor-made solutions that deliver tangible results.
Retail: We develop immersive shopping experiences, virtual showrooms, and augmented reality applications to enhance customer engagement and boost sales.

Education: Our team creates interactive training modules and virtual classrooms that leverage real-time 3D to improve learning outcomes and reduce costs.

Manufacturing: We employ Unity Industry to create digital twins and optimize production processes, resulting in increased efficiency and reduced downtime.
At PeakActivity, we are committed to helping businesses unlock the potential of Unity Industry and transform their operations through immersive technologies. If you are ready to explore the power of real-time 3D and revolutionize your industry, we invite you to get in touch with our team of experts.
Contact us today to schedule a complimentary exploratory workshop, discuss MVP ideas, or learn more about our scalable Proof of Concepts powered by Unity Industry. Together, let's shape the future of your business and achieve new heights of success.
DIGITAL MARKETING
Top 10 Photos of Developers Staring At Screens
DIGITAL STRATEGY
5 Ways Retailers Can Make Influencer Marketing More Influential
ECOMMERCE
How Many Emails is Too Many?