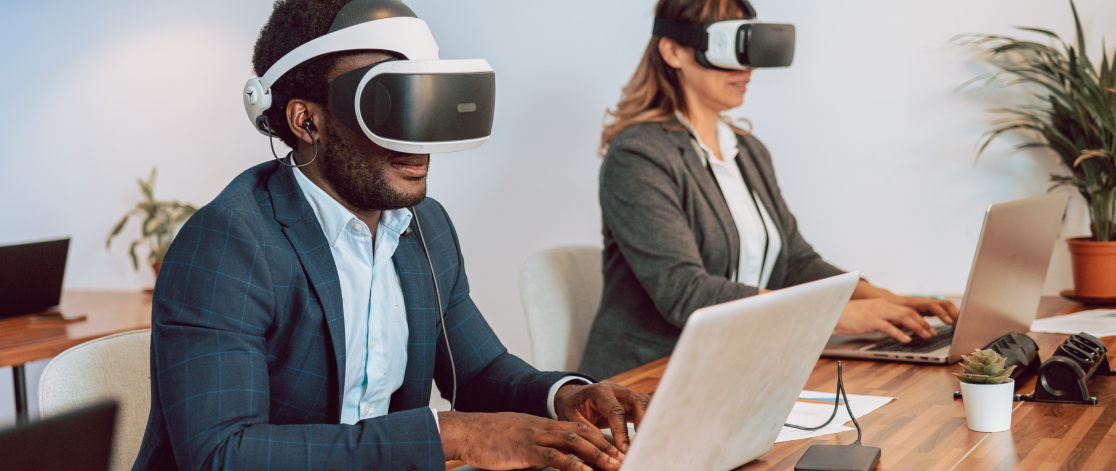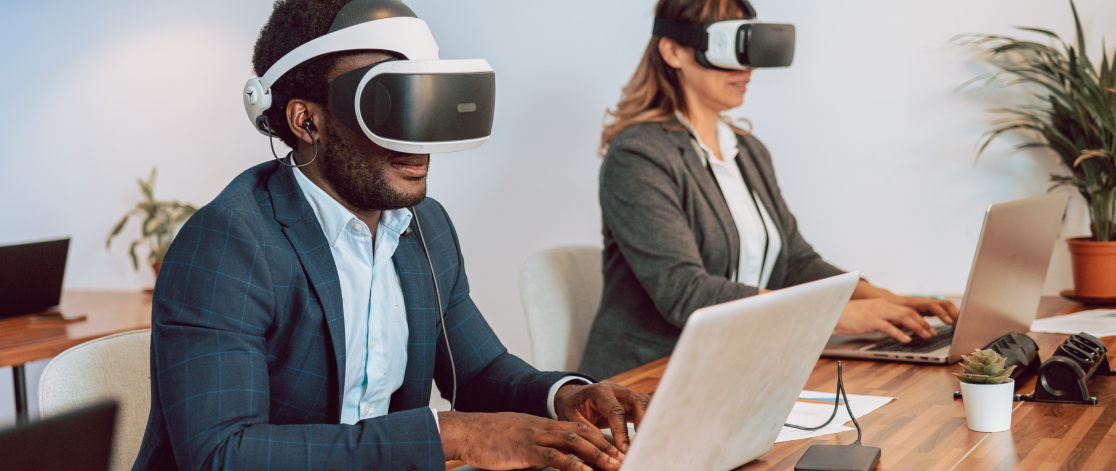 Metaverse, metaverse, metaverse. Everyone's talking about it, everyone's saying what a game-changer the metaverse is going to be, and companies are already making substantial financial investments so they can be a part of it. What makes all of this truly amazing, though, is that if you asked ten people to explain what the metaverse is, you'd probably get ten different answers.
In an effort to help shed some light on the metaverse and, in particular, why the metaverse will be so important in the B2B space, we're going to begin by answering the most common question related to the metaverse, which is this: what exactly is it?

Boiled down to its essence, the metaverse is a virtual, three-dimensional world where you —represented by an avatar—get to do the kinds of things that you do in real life: shop, go to dinner, attend a party, listen to music, meet new people, etc. The metaverse can also be supplemental 3D content in the real world.
It's a shared space that constantly grows and evolves based on user decisions and interactions within the space. Even if you're not participating in the space, the metaverse continues to exist; it doesn't "stop" when you close your browser window.
There's a common misconception that the metaverse is some sort of online game or virtual theme, neither of which is correct. The metaverse is, simply put, a world unto itself.


While most of the companies already leveraging the commercial potential of the metaverse are primarily retailers, the metaverse offers a number of benefits to those in the B2B world, as well.
Increased Collaboration and Networking
With advancements in metaverse technology, B2B businesses will be able to establish and nurture client relationships "face-to-face" via their avatars. Research in Harvard Business Review revealed that in-person communication is 34X more effective than any text-based exchange. In situations where air travel would be cost-prohibitive, or if a potential client wanted to meet with very little notice, the metaverse would allow you to have that meeting while saving you time and money.
More Immersive Customer Experiences
In the metaverse, B2B sellers will be able to craft deeper, more immersive experiences for their buyers, which could go a long way towards creating easier sales. According to SuperOffice, 86% of buyers are willing to pay a premium for excellent customer service, and 49% of them have made impulse purchases simply as a result of receiving a more personalized customer experience.
New Marketing and Advertising Opportunities
As the metaverse grows, B2B businesses will gain access to new marketing and advertising opportunities. For example, companies will be able to sponsor events in the metaverse, like a concert, or create targeted ads that are more likely to attract potential customers, and because the metaverse is still in its early stages, businesses that stake their claim in the metaverse now will have a distinct advantage over their competitors.
Obviously, the goal of any business is to increase sales and revenue, and the metaverse offers a rather unique way to do just that. By establishing a presence in the digital space, B2B companies can tap into new markets and new sources of revenue. The metaverse also poses the very real potential to increase sales. For example, a B2B salesperson could host multiple meetings with buyers from different parts of the world, all without leaving their metaverse office.
Improved Employee Productivity
The metaverse can positively impact more than just sales. Departments like human resources, customer service, and research and development (R&D) can also use metaverse technology to increase productivity. With metaverse-based training simulations, employees can learn new skills faster, and customer service agents can use avatars to provide assistance in real-time. This technology also has the potential to improve communication and collaboration between employees. Remote workers will be able to "meet" face-to-face in the virtual space to discuss projects, share ideas, and provide feedback.
Making the Metaverse a Priority
Making the Metaverse a Priority
The fact that we're still in the very early days of the metaverse isn't stopping some very large technology players from placing some equally large bets on the potential of the metaverse. From Meta (formerly Facebook) and Microsoft to Google and Shopify, companies are making major moves to stake a very real claim in a virtual world that has yet to fully define itself. However, you don't need to be able to predict the future to know that the metaverse is going to be the next big thing. All you have to do is look at the tens of millions of dollars that are already being spent by companies simply to get an early seat at the metaverse table.
Learn more about how businesses can leverage the metaverse, or about PeakActivity's Innovation capabilities and service offerings. Fill out the form below to hear directly from a Peakster.
Want even more educational content?
Subscribe below to get timely content delivered to your inbox,
or fill out the form below to speak to a Peakster about your next project.
DIGITAL MARKETING
Top 10 Photos of Developers Staring At Screens
DIGITAL STRATEGY
5 Ways Retailers Can Make Influencer Marketing More Influential
ECOMMERCE
How Many Emails is Too Many?